About Our NW Oklahoma City Location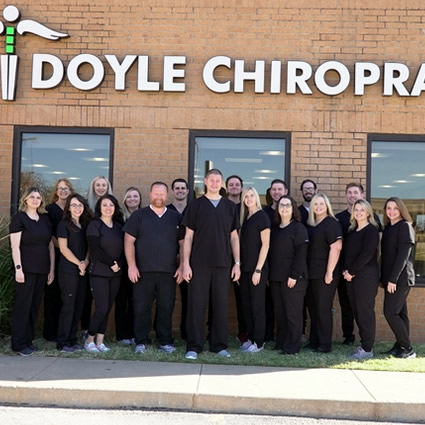 Doyle Chiropractic's roots were established back in 2009 when our first location opened in Yukon. As the practice grew and our mission evolved, we knew that the only way to truly change the health of our community was to become more accessible by adding locations. In October 2019, Doyle Chiropractic opened its NW Oklahoma City clinic.
Dr. Kasey Hamilton is the clinic director of the NW Oklahoma City chiropractic office.
Our Mission
We want to see 80% of our community get the benefit of regular chiropractic care. In doing so, we can shift the way people think about health care, knowing that the key to true health lies in being proactive. Drugs and surgery, though lifesaving in some cases, may not be necessary as often as they are used in today's world.
Through chiropractic care, you and your family can experience a level of health you may have never dreamed possible.
Why Chiropractic?
Chiropractors focus primarily on the chiropractic adjustment. Any joint in your body can be adjusted, though people most often think of the spine as being associated with chiropractic. From head to toe, we can address your full body needs.
The developer of chiropractic, B.J. Palmer, said, "The power that made the body, heals the body." We know that's true because we have seen it time and time again. You have an innate power to be healthy-all it takes is to make sure there is no interference in your body's natural abilities. That is where chiropractic comes in.
MEET THE TEAM »
We'll Guide You Along the Way
If you are in pain or suffering from ill health, you might have a tough time knowing what to do next, or how to stay positive through it all. That's where we come in. At our office, you will get the support and encouragement you need, along with the highest standard of care.
Contact Doyle Chiropractic in NW Oklahoma City today to schedule your first appointment! Same-day visits are available.

About Doyle Chiropractic in NW Oklahoma City | (405) 603-4844